3rdeye (サードアイ)
性別:男

1977年東京生まれ 
16歳から25歳までアメリカへ留学。
2000年 School of the Museum of Fine Arts - Boston 卒業
帰国後、雑貨メーカーへ勤務した後、2005年から
イラストレーターとして活動を開始。
東京都在住。
展示会

2007年 Tokyo illustration 2007 at 国立新美術館
2008年 グループ展「装幀とイラストレーション」 at PATER'S SHOP & GALLERY
2009年 初個展 「PEOPLE」 at thorntree gallery
受賞歴

2007 Tokyo illustration 2007 公募 入選 (東京イラストレーターズソサエティー)
2008 藤本やすしMAGAZINEチョイス 「BRUTUS TRIP賞」受賞 (「illustration」玄光社)
2010 3x3 PROFESSIONAL SHOW 2010 入選 (「3x3 magazine」 U.S.A)

仕事のお問い合わせ、ご依頼は下記のアドレスへお気軽にご連絡下さい。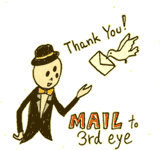 3rdeyebiz@gmail.com


3rdeye

1977 _Born in Tokyo.
1993 - 2002 _Study abroad to U.S.A.
2000_Graduate from School of the Museum of Fine Arts.
2003_Back to Japan.
2005_Start career as an illustrator. Based in Tokyo.

Exhibitions

2007_Tokyo illustration 2007 at The National Art Center. Tokyo
2009_First solo exhibition「PEOPLE」 at thorntree gallery

Awards

2007_Nomination / Tokyo illustration 2007 (Tokyo illustrators society)
2008_Receive BRUTUS TRIP award / Yasushi Fujimoto's Magazine choice (magazine"illustration")
2010_3x3 PROFESSIONAL SHOW 2010 Merit (「3x3 magazine」 U.S.A)

If you would like 3rdeye to work on any project
please send an e-mail.
feel free to write in english.